Why Internal Auditing is Important?
You might think, "Isn't a quarterly auditor checkup enough for the organization's security?" By all means, will the internal auditing program be beneficial to the company? Of course! Here are some reasons why in-house auditing is as important as external.
Both in-house and external auditing programs are meant to help you gain control over the data flow and activity in your organization but they assess your corporate environment from different angles. The external auditing (compliance auditing) is mandatory for certain businesses. Although external auditing works towards the universal goal of achieving a higher level of security and transparency in your operations, it is limited to validating compliance against established rules. Being generally recognized as security best practices, these rules do not necessarily pay attention to unique aspects of your business and even keep these aspects off your security radar. On the other hand, the internal auditing is super flexible. It supplements the compliance auditing by enabling you to monitor assets and operations that matter most to your business. So are you still wondering if you should start an internal auditing program? See some perks of regular in-house auditing.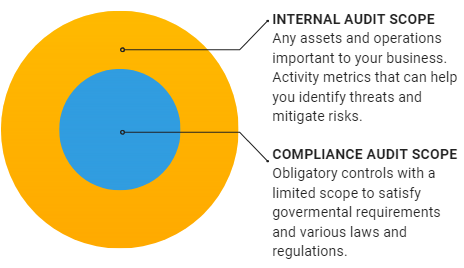 If your company operates in a regulated environment and is subject to compliance assessments, sooner or later, the auditors will show up and you will have to prove that all activity in your corporate environment is traceable. So why not to be proactive and engage earlier by launching your own in-house auditing program? By the time of next scheduled compliance checkup, you will have enough data to corroborate any changes. With on-going internal monitoring, you will pass compliance audits without any stress and hassle.
Internal auditing has much more to offer besides facilitating the obligatory compliance checkups. Since you are not limited to certain regulations and laws, you can incorporate more elaborate auditing techniques and extend the scope. You can monitor any assets or operations you consider to be important to your organization even if they are not recognized by compliance regulations. Research the industry best practices and tailor them to your organization's needs by setting specific goals you want to accomplish. Incorporating monitoring in your routine helps you identify potential breaches and operation bottlenecks that remain concealed otherwise. With regular checkups, you'll stay on top of changes in your organization and learn more about activity patterns unique for your corporate users and data flow.
In-house auditing empowers you to look beyond the prescribed security controls and work towards making your corporate environment both secure and efficient. The data you collect and analyze with Cygna Auditor can be used as a source for data governance improvements. For example, you can rearrange your Active Directory structure and permissions inheritance based on the way how the employees use files on file servers or SharePoint Online—you can organize users with similar activity patterns (working with common files and performing similar actions) in a designated Active Directory or Azure AD group and manage their permissions through this group. Conducting regular auditing is a great way to systemically improve corporate operations and data governance.
To sum up, both compliance and in-house auditing are beneficial to your company. The first one, being more formal, is compulsory in certain industries and guarantees an adequate level of security (yet being compliant with well-known regulation generally promotes your brand!). The latter—internal auditing—is much more flexible. Regular in-house audit checkups work as a security avaunt-guard as well as fill in the gaps of the compliance audit and generally improve your company cyberhealth.