Global Reports
The expert security team of Cygna Labs designed and prepacked Cygna Auditor with a set of Global reports. These reports are based on the Global Search technology. With their help, you pass compliance audits (PCI, HIPAA, GDPR, etc.) as well answer most everyday security administration questions such as "were there any changes to security groups?" or "what users got their passwords reset?"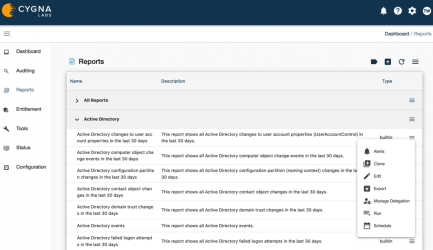 Built-In Global Reports
The built-in reports work out of the box. They do not require any modifications. Just schedule regular reviews with your security response team and keep track of activity and changes in your business critical systems.
Custom Global Reports
Each organization is unique and has specific needs and metrics to track that cannot be covered by build-in reports. Looking beyond the compliance reports specific to the audit source, Cygna Auditor enables you to create custom cross-system reports from scratch or leverage preset reports as customizable templates.
Leveraging flexible filters of Global Search, Global reports can be a great tool for internal auditors and security officers who need to analyze activity patterns and detect threats across the entire environment. Unlike one-off searches constructed from scratch every time, custom reports are preserved in Cygna Auditor so that you and your colleagues can use them later.
You can convert your search into a report right on the Global Search page or go to Home / Global Reporting / Reports and click Create to set up a new report.
On the

Details

tab, add the report name and description.
On the

Filter

tab specify the search query. For your convenience, Global Reports are featuring the same search techniques and data presentation as Global Search. If you are not familiar with these search techniques, refer to Global Search for more information.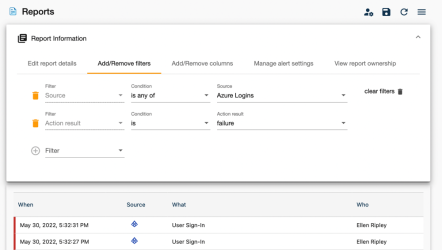 QUICK TIP
: Seeing results just for one source or no search results at all? You are missing required permissions. Discuss your permission set with
Cygna Auditor
's global administrator.
Note: You might see several records with events that occurred at the same time up to seconds—for example "create user" with subsequent "modify user". Typically they represent a single, one-time action. The reason why Cygna Auditor displays it as several records is that Windows actually generates several events in response to your actions.
Subscribing to Reports
You can run any report as a subscription and deliver it to your mailbox according to a specific schedule.
To create a subscription:
Navigate to the Global Reports.
Click on the calendar icon next to report you'd like to subscribe to.
On the Schedules page, select

Create

to add a new subscription.
Define the schedule—its name and description, how often you'd like to receive the report (every day, Mon-Fri, weekly, etc.), when to send the first subscription. Make sure the

Enable this schedule

option is on.
Define the recipients—provide email addresses, set up the layout, and decide if you want to receive emails even if the report is empty. Make sure the

Enable this distribution

option is on.
The subscriptions you create for the report, will appear on the Schedules page. The active subscriptions are marked with green thumb. You can always enable and disable subscriptions, adjust frequency, distribution list, and other settings.